Due to the current tense situation on the raw materials markets, all prices quoted do not include a metall price increase surcharge.
Please inquire about this by email or telephone.
Delivery to private individuals is currently not possible!
Special 1000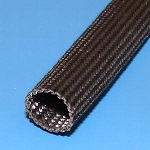 Material
braided fiber glass, epoxy impregnated
Temperature range
-30°C up to +280°C, short-term +320°C
Breakdown voltage without moisture
0,8 kV up to 1,2 kV
Color
black
RoHS Compliance
according to EU Directive 2002/95/EG
UL certified
UL 1441
Good resistance to thermal shock and UV radiation
Good mechanical resistance to abrasion
Self-extinguishing
Show 1 to 9 (of in total 9 products)
Show 1 to 9 (of in total 9 products)
questions about our products, or you can´t find the items you´re searching for?
Please contact us by telephone or email for individual assembly